If you're considering remodeling your home in 2023 and onwards, you'll want to read our recommendations of the seven best value-adding projects for residential homes. Each of these projects can add significant rental and resale value to your home – often even more than the renovation cost. So, whether you're looking to sell your home soon or want to get the most out of your investment, these are the renovations with high ROI that you can't afford to miss.
Kitchen remodels
Bathroom remodel
Boosting curb appeal
Improving outdoor spaces
Adding an ADU
Accessible bathrooms
Replacing flooring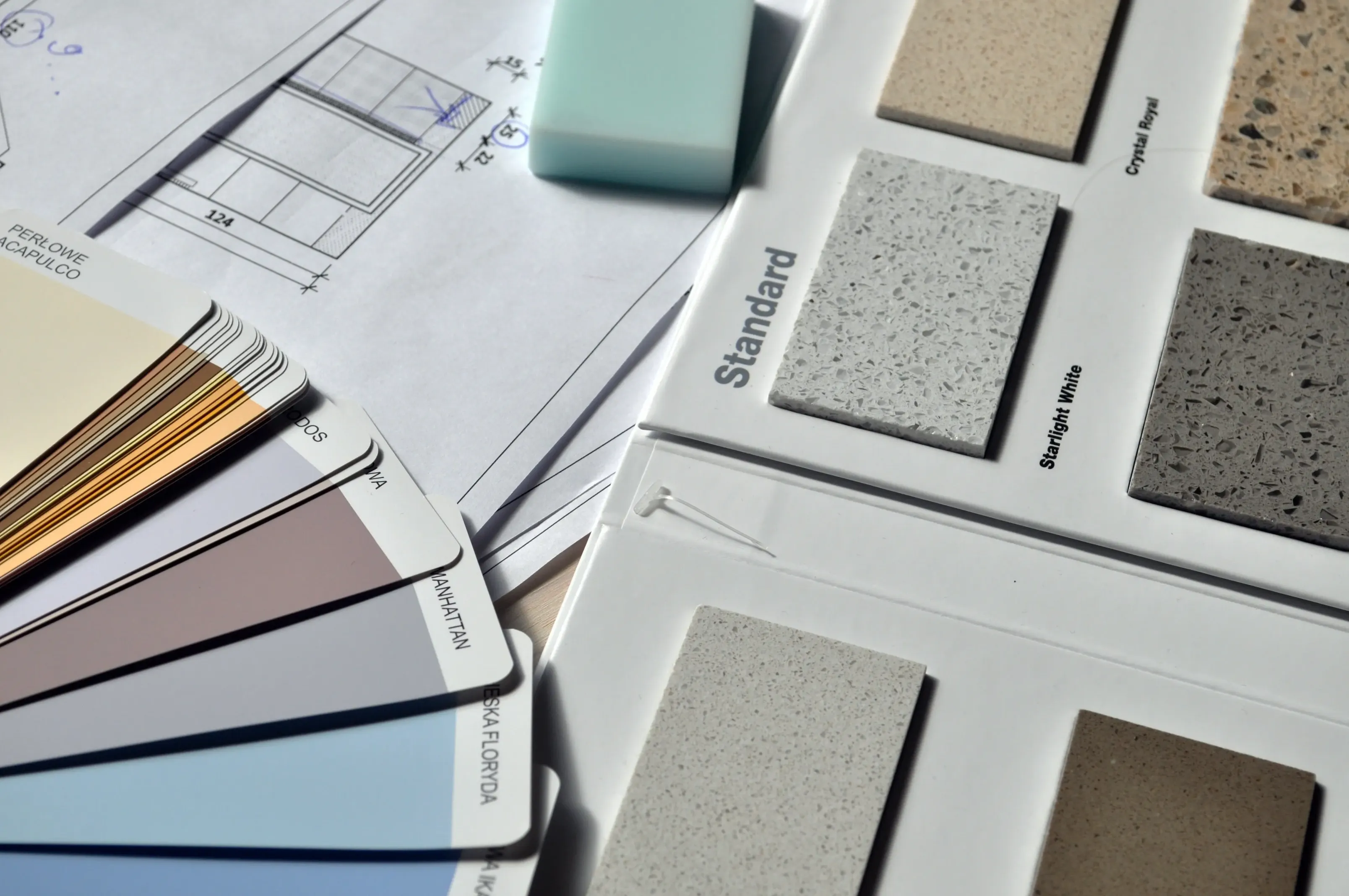 Kitchen remodels
Kitchen renovations can significantly improve your home's value and generally fall in the $20,000 to $50,000 price range. Because the kitchen is often considered the "heart" of any house and a common deciding factor for potential buyers, this renovation expense is almost always worth it.
Whether you want to update your countertops and cabinets or do an extensive kitchen remodel, many options increase resale value. More minor remodels that add features like pendant lighting, new countertops, extra storage, or new flooring usually bring in more money when you sell your home.
Buyers often care more about the kitchen's overall look than small, expensive details, so spend your money on improvements that will make your kitchen look more visually cohesive.
If you want to increase your home's value, one easy way is by replacing old appliances like fridges, ovens, and dishwashers. These appliance upgrades are especially effective if your kitchen looks dated. A kitchen update is always a great idea if you want to renovate your home. Not only will it make your space more modern and stylish, but it's also a project that usually adds significant value to your home.
Bathroom remodels
Similar to your kitchen, your bathrooms see a lot of traffic. If your home's bathroom is out-of-date, it will look worn and unkempt, which could discourage buyers from touring the property. By renovating your bathroom, you can improve its value in terms of resale potential and daily enjoyment. Some great remodel options are replacing all tap fixtures, getting a new porcelain-on-steel tub with ceramic tile, adding standard toilets, or installing a vanity with storage capabilities.
Bathrooms can have many problems, like mold and mildew from lack of ventilation or hot water supply issues from aging heaters. These can lead to high repair costs or even a breach of your tenancy agreement. However, a bathroom can be a better financial investment than doing patch jobs over time.
You could start by replacing the tub, toilet, sink, or vanity. Replacing the shower head will make bath time more pleasant and add more value to your home.
Complete bathroom remodels, depending on the types of finishes used and whether you add popular features such as a bathtub or extra toilet, can increase a home's value by 10-40%.
Boosting curb appeal
In short, the exterior of your home is what sells it. By renovating your front door or garage door and investing in an exterior paint job or better front-yard landscaping, you can improve how the house looks and its curb appeal. Studies show painting the outside of your home before putting it on the market could give you up to a 51% return on investment. In addition, it makes your house more marketable by improving curb appeal and making your listing photos stand out.
One easy way to increase your home's curb appeal and value are by changing your front door. It'll be one of the first things guests or prospective buyers see, so you want to make sure it makes a good impression. While solid wood doors have aesthetics, steel offers safety and security and a higher return on investment – Forbes says you can expect around 90% ROI.
Replacing your home's garage doors is also a good investment for enhancing curb appeal. You will likely get more money back than you spend on new garage doors, especially if your old ones are not in good condition. Updating your garage door can also make your home look different from the other houses in your neighborhood.
Lastly, investing in new front-yard landscaping can help make your house look fresh and appealing, and it doesn't have to be expensive or elaborate.
Improving outdoor spaces
Many home buyers rank enhanced outdoor living and entertaining spaces among their top priorities. Furthermore, research suggests that ROI is often higher for improvements to outdoor spaces than for other home renovations. Outdoor remodeling, whether adding a deck or patio, including plants and trees in your landscaping or upgrading your outdoor lighting, can help increase the value of your home.
Adding a deck to your home increases the living area while also saving money per square foot compared to primary building additions. In addition, adding greenery to your outdoor spaces, like shrubs, flowers, and trees, makes them more inviting, private, and enjoyable.
Keep in mind that experts agree that it is not a good idea to install a pool if you are trying to sell or increase the value of your home because the costs of upkeep and maintenance will likely be more than what the pool is worth. In addition, potential buyers may not be interested in the maintenance of a home with a pool.
Adding an ADU
Adding an ADU (accessory dwelling unit) to your home is one of the best value-adding remodeling projects for boosting your home's value in 2022. This project has been gaining popularity because city councils nationwide recognize ADUs as a viable solution for housing shortages. An ADU can be anything from a small second kitchen to a fully finished basement, office, garage apartment, or backyard studio.
Whatever form it takes, an ADU offers the flexibility to create a new space that can add value in many ways, whether through the increased living area or additional income potential. And with an ROI ranging from 50-80%, an ADU can offer a significant value boost for your home, making it well worth the investment.
Before investing in an ADU addition, learning about things that could hold back your plans, like zoning restrictions and building regulations, is essential.
However, if you're willing to do your research and plan carefully, an ADU renovation can turn out to be one of the most value-adding projects you can take on for your home - both in terms of boosting its resale value and making it more liveable for yourself and family in the future.
Accessible bathrooms
If you're looking for value-adding home renovations in 2022, accessible bathroom remodels may be the right choice for your home.
As people age, they often require different accommodations in the bathroom to maintain their quality of life. An accessible bathroom can make it easier for elderly or disabled individuals to bathe, get dressed, and move around independently, improving their quality of life and lowering the risk of injury.
You need to think about a few things when planning an accessible bathroom renovation. The first is the dimensions and layout of the space. For example, you want to ensure that the new bathroom is spacious enough for wheelchair access and consider creating wider doorways and hallways.
Additionally, you will need to consider features such as zero-threshold showers, grab bars, and ADA-compliant fixtures. Another thing to consider is managing plumbing, electrical wiring, and other utilities to ensure that your accessible bathroom works appropriately.
While these changes may seem minor on their own, they can significantly impact the safety and comfort of your home for years to come. Adding accessible features to your bathroom can increase its resale value by nearly $12,000.
So if you're looking to age in place or want to ensure that your home is accessible for buyers of all abilities, consider investing in some accessibility upgrades.
Replacing flooring
Replacing your carpets with hardwood floors could see a great return on investment; the average ROI for resurfacing or installing new flooring is around 70% to 80%. Hardwood floors are durable, attractive, and easy to clean, which makes them the preferred choice of home buyers across the nation. If you are selling your home soon, replacing carpet with hardwood is worth replacing, especially in high-traffic areas.
Value-adding remodels is a great way to boost your home's value and make it more attractive to potential renters or buyers. These projects we've covered will undoubtedly be some of the best value-adding investments for homes in 2023 and beyond.
Always research and work with a professional to ensure safe and effective renovations. Remodels and smaller-scale home improvement projects are also excellent ways to improve the aesthetic of your home without breaking the bank. Doorstead has a list of nine popular home improvement trends.
Here are some additional resources to help with financial planning and cost analysis for implementing renovations:
Iproperty Management's Most Cost-Effective Renovations for the National Market
California Home Remodeling Trends
Fixr's Cost vs. Value Report of 2022
Doorstead's Blog with Property Management Resources
Did you find this article helpful in inspiring some value-boosting remodeling ideas? If so, please share it with your friends or family! Is there anything we should have included or remembered to mention? Have ideas for collaborating on an article? Please email [email protected], and we'd love to discuss.
And if you're looking for more helpful tips on home improvement or property management, be sure to visit our blog.